Volunteers Needed
The Blanco County Friends of the Night Sky is a grass roots non-profit organization dedicated to preserving the night sky that is part and parcel of our Hill Country heritage. We fight the proliferation of light pollution that robs us of the ability to look in awe at the night sky as it once was...and can be again.

Night-Sky-Friendly Business Recognition Program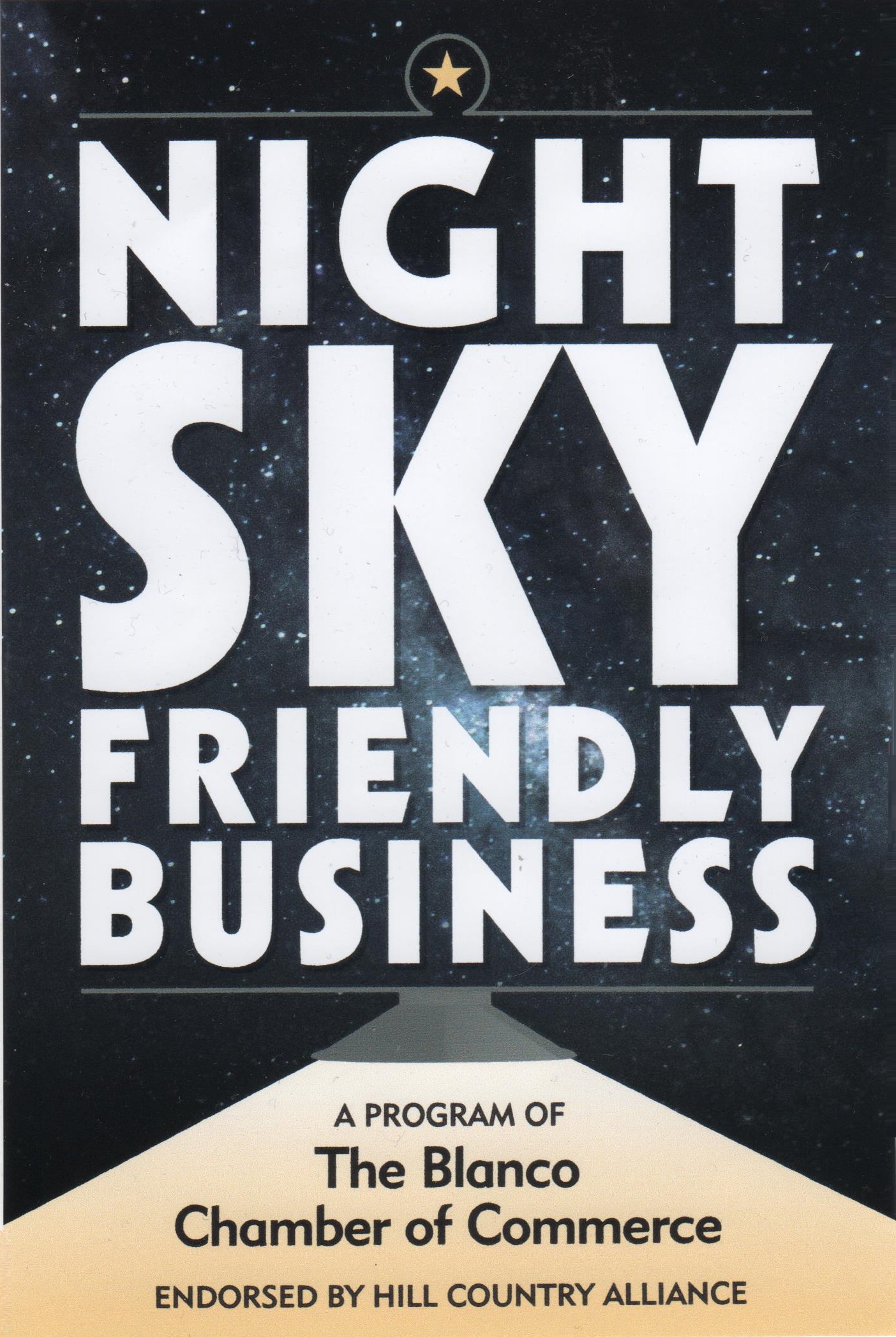 Businesses, obviously, are often a major source of light pollution. But some businesses have very good outdoor lighting. These businesses should be recognized. That is why we, in cooperation with the Chambers of Commerce in Blanco and Johnson City and the Hill Country Alliance, have created the Chamber of Commerce Night-Sky-Friendly Business Recognition Program. This program recognizes businesses and organizations that have night-sky-friendly outdoor lighting and encourages other businesses and organizations to shield or retrofit their lighting to stop polluting the night sky.

But it takes people to make such a program work. The small staffs of our Chambers of Commerce don't have the time to do this. Therefore, we are looking for two people in the Blanco area and two people in the Johnson City area who can step up and take this great program to the next level.

We will provide training and supervision for these volunteers. We will provide a list of initial businesses and organizations to be recognized.

The volunteers will do the following:

Contact the businesses or organization and see if they want to be recognized. (We will provide a fact sheet and other material to use in the initial contact.)
If the answer is "yes,":
Obtain a Hill Country Alliance-provided Night Sky-Friendly Business Recognition window cling. (We have a supply.)
Prepare a Recognition Certificate. (We have the model on our computer and have a supply of frames and gold stickers for the Certificates.)
Get the Certificate signed by the President of the Chamber of Commerce Board of Directors (or Executive Director of the Chamber).
Coordinate a date and location for a presentation ceremony to include newspaper coverage.
Conduct the presentation ceremony to award the Window Cling and the Certificate of Recognition.
Update the Recognition Frame in the Chamber of Commerce's office. (We have this on our computer as well.)
Notify the Hill Country Alliance of the recognition and provide the appropriate URL so they can put a link of their website back to the recognized business or organization.
We would like to have a recognition ceremony once a quarter, with several businesses being recognized at once.

This is one of the most important programs we have going, but it requires two people in each city to run it. If you think you might be able to do this, we'd love to hear from you!


Other Volunteer Opportunities
We have a number of other volunteer opportunities. We need volunteers to make photographic documentation of outdoor lighting of various businesses at night and during the day. You can use the camera on your smart phone to do this. We also need volunteers to take dark sky brightness readings. If you would be interested in one of these tasks or one of several other opportunities, please let us know.

Let us know
If you are interested in volunteering, please contact the President of the Blanco County Friends of the Night Sky, Wayne Gosnell at (210) 557-6127 or GosnellTexas@Gmail.com.

With your help, we CAN preserve our night sky...one light and one star at a time.

Thank you!